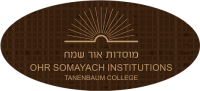 The New

Complex

Ohr

Somayach
MAIN BEIS MIDRASH
DERECH BEIS MIDRASH
CENTER BEIS MIDRASH
LIBRARY
DINING ROOM
Read More
Virtual Tour
In 1972 a group of young and experienced educators from the United States, founded Yeshivat Ohr Somayach in Jerusalem. Deeply troubled by the vast number of Jews who were growing up with little or no knowledge of their unique heritage, these dedicated scholars sought to refasten the bonds of knowledge that untie Jews across time and space. They knew that the beauty and truth of Torah study that has united and inspired Jews throughout the ages would rekindle the interest and excitement of a generation of lost souls, who grew up in a material Western culture without any knowledge of their heritage.
They created a school to stimulate bright young minds with the collected wisdom of three thousand years, in a format geared for students of contemporary higher education. From modest origins - an unheated, rented room, with no dining facilities - blossomed an institution for the intellectually sophisticated newcomer to Jewish thought and learning, teaching the age-old philosophy of the Jewish people, brought forward into today's turbulent world.
In 1977, with the building expertise, financial support and guiding hand of Mr. Joseph Tanenbaum, zt'l, of Toronto, the Yeshiva built its large and beautiful new campus at its present location in the Maalot Dafne neighborhood of Jerusalem.
For more than four decades Ohr Somayach has been bridging not only the generations, but the nations of the world as well. It has launched over twenty schools and programs in Israel and the Diaspora and has operated outreach operations in more than a dozen cities on five continents. Through the Ohr LaGolah Program of the Hertz Institute, we have trained hundreds of educators, spiritual leaders and outreach experts serving communities throughout the world who are ensuring that there will be Jewish continuity.
Today, the Yeshiva itself has over 400 full-time students and hundreds more participating in short-term programs. We also run seminars throughout the world attracting thousands of participants every year. Its highly professional staff includes former professors at major universities and the best and brightest talmidei chachomim.
Where we are currently holding
2019
2018

Sept 2018

CONSTRUCTION UPDATE

June 2018

CONSTRUCTION BEGINS


Tractors roll in and construction gets underway.



2016-2017

Dec 2017

PREPARATIONS FOR CONSTRUCTION

Ohr Somayach begins physical preparations for the start of construction and fences off the area that will be the construction site.

Dec 2016

UPDATED PLANS


The plans for the new Beis Midrash complex are updated and pre-construction preparations continue.



2004-2015

2009 - 2011

NEW DEPARTMENTS - PISGA & JINTERNSHIP

In Jan 2009 Pisga, a customized yeshiva year for South African and Australian post high school students, opens. In June 2011, Ohr Somayach launches another groundbreaking program, JInternship, which provides a learning program integrated with a working internship.

July 2007

MENTOR MISSIONS

Mentor Missions enables Bnei Torah to make a difference in the lives of unaffiliated Jewish students by creating lasting relationships through unique and inspiring trips, programs and events. This pioneering program has grown to include hundreds of mentors who have made a significant difference in the lives and decisions of hundreds of unaffiliated Jewish college students. These mentors empower our students to change their outlook of a Torah lifestyle by demonstrating their success living a Torah lifestyle while balancing a career.

Jan 2006

JEWISH LEARNING LIBRARY

The Jewish Learning Library publishing arm of Ohr Somayach was founded. Since then we have published a dozen sefarim.

May 2004

YEMEI IYUN

The Annual Nationwide Yom Iyun programs were launched. Ohr Somayach Senior Lecturers travel North America on an annual basis, inspiring and informing thousands.

1993-2003

Jan 2003

OHR SOMAYACH DIGITAL AUDIO LIBRARY

With 1000s of shiurim from luminaries such as the Rosh Yeshiva Rabbi Nota Schiller, Rabbi Mendel Weinbach zt"l, Rabbi Nachman Bulman zt"l, Rabbi Yitzchak Breitowitz, Rabbi Uziel Milevsky zt'l, the Ohr Somayach Digital Audio Library remains a heavily used and valuable resource until today.

June 1997

JLE IN LONDON


JLE in London opens a new center in Golders Green. With over 1000 weekly attendees the JLE rapidly becomes the largest Jewish Social and Educational Center of its kind in Europe.




1996 – 2001

NEW DEPARTMENTS – CENTER & DERECH

In September 1996 the Center for Torah studies opened for young men with intellectual capabilities and motivation who sensed the disparity between their mastery of secular and Jewish subjects, and who needed to attain the ability to independently study Jewish classics. In September 1998 the Derech Institute – for motivated post-high school students who may or may not have had a strong formal Jewish education – opened.

August 1993

RUSSIA


In June 1993 Ohr Somayach opens OhrDessa schools and orphanage. They continue as part of Ohr Somayach until 1999 when they become independent.



1984-1993

1992 - 1993

OHRNET / WWW.OHR.EDU

Understanding the need to remain at the forefront of the hi-tech educational world, in 1993 Ohr Somayach established its own website. At the same time our email publications were incorporated into an online weekly publication – OHRNET.

1998


CANADA


Ohr Somayach in Toronto opens its doors.




1986

OHR LAGOLAH

In order to translate Judaism into the language of today, to relay our heritage to a modern generation, educators today need more than just knowledge. They need skill, and they need training. In 1986 Ohr Somayach established the pioneering rabbinic, leadership and teaching program Ohr Lagolah. Since its foundation hundreds of graduates have found meaningful positions as rabbonim, mechanchim, campus rabbis and in community kollelim, inspiring thousands of young Jews to investigate, connect to and grow in their Judaism.

1984 – 1993

MULTI-LINGUAL IN JERUSALEM


Over the next decade Ohr Somayach in Jerusalem opens departments in foreign languages. The French speaking department opens in 1984 and becomes autonomous in 1986. In 1992 both Spanish and Russian departments open, run as part of Ohr Somayach for the next 15 or so years, before becoming independent in the early 2000s.

1978-1983

1979 - 1983

FURTHER INTERNATIONAL EXPANSION

In 1979 Ohr Somayach Johannesburg opens its doors. In 1981 a Jewish Learning Exchange opens in both New York and Los Angeles. The Ohr Somayach UK branch starts operating in 1983/84.

1979 - 1983

MONSEY

The yeshiva in Yonkers moves to Monsey. In April 1983 Joseph Tanenbaum purchased land for an Ohr Somayach campus in Monsey. OS Monsey becomes autonomous in June 1987.

Sept 1978

OHR SOMAYACH COLLEGE FOR WOMEN

Ohr Somayach College for Women opens and subsequently merges with Neve Yerushalayim two years later.

1978 - 1981

ZICHRON YAAKOV

In June 1978 the Givat Ada community moves to Zichron Yaakov in where it continues to function as a branch of Ohr Somayach before becoming independent as Ohr Yaakov Yeshiva in 1981.

1972-1977

August 1977

INTERNATIONAL EXPANSION

The first branch of Ohr Somayach to open outside of Israel opens in Yonkers, NY.

April 1977

NEW CAMPUS DEDICATED ON RECHOV SHIMON HATZADIK

In 1977, with the building expertise, financial support and guiding hand of Mr. Joseph Tanenbaum zt'l, of Toronto, the Yeshiva built its large and beautiful new campus at its present location in the Maalot Dafne neighborhood of Jerusalem.

1974 - 1975

EXPANSION

In 1974 the Hebrew speaking Israeli Department opens, and runs as a department of Ohr Somayach in Jerusalem for 28 years before becoming independent in 2002. Also in 1974 an Ohr Somayach Community for married couples and bochurim was founded in Givat Ada. The award- winning magazine "Shma Yisrael" was first published in 1975.

Sept 1972

OHR SOMAYACH OPENS

In 1972 a group of young and experienced educators from the United States founded Ohr Somayach in Jerusalem.