The Confrontation Between The People of the Book and the Beautiful People
At this point in the year, when time is measured by how many shopping days are left... the Jewish person often finds himself re-defining who he is in relationship to his Judaism. The festival of Chanukah - the most noticeable aspect of
Kislev
, is all about redefining and rededicating ourselves to the values and principles of Judaism. The word Chanukah itself means dedication.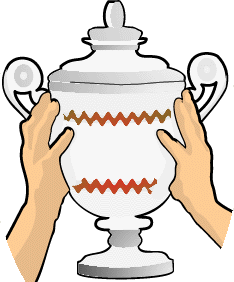 Peter Finch, the Oscar-winning Australian film actor, once remarked "When you move an eyebrow in Cinemascope it travels three feet..." Our age is unique in the way we place importance on the way things look, on their external appearance: Whether that appearance is the carefully groomed lines of a Lexus sedan, or the mandatory shape of the human anatomy painfully carved in sweat and toil of so many man-hours of aerobics. We live in a world that is replacing substance with form, reality with appearance.
In his Ode on a Grecian Urn, John Keats, the English Romantic poet, wrote "Beauty is Truth, Truth, Beauty." Truth and Beauty - two values representing a historic and perpetual confrontation between the People of the Book and The "Beautiful People," - between Jerusalem and Athens.
It is interesting that Keats chose to write his poem on a Grecian urn, for it was Greece that gave the world the idea that Beauty is, in itself, a supreme ideal. Judaism says that this ideal can become an idol. If Beauty doesn't dwell in the tents of Truth, then 'Beauty' may become a 'Beast' - a pretext for hedonism and immorality.
But don't think that there is no place for Beauty in the Jewish world-view. The Torah states categorically that aesthetics has a value, but only to the extent that it serves Truth, and uplifts the soul. In other words, Truth is Beauty, but what is beautiful may not necessarily be true. When you gaze into the light of your Chanukah candles, remember that their light shines out with the radiance of the Jewish love for Truth in all the ages.