---
IMMAH RACHEL WEEP
The eleventh of Cheshvan is the yartzeit (Yiddish - lit. 'year's time'), the anniversary of the passing away of 'Immah' Rachel - mother of the Jewish People. The place of her grave has been known through the ages, to be on the Bethlehem road, a few miles south of Jerusalem.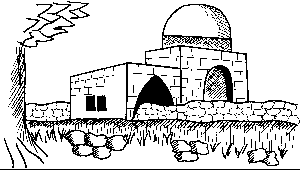 Immah Rachel weeps
She stands on the Bethlehem Road
and cries
for her children
Refusing to be consoled
Long lines, destined for Babylon
- exile on the Bethlehem Road.
Refrain your voice from weeping and
your eyes from tears, for the children
shall return to their boundary said
Hashem.

Immah Rachel weep again
for us -
for how long may we
come to pour out our hearts to Our
Master
here
where you cried for your children,
on the Bethlehem road
cry for us.
Immah Rachel weep.
---
Sources:
Radak, Jeremiah 31
---
This poem originally appeared in
SEASONS OF THE MOON
for Cheshvan 5756.
Written by
Rabbi Yaakov Asher Sinclair
.
General Editor:
Rabbi Moshe Newman
.
HTML Design:
Michael B. Treblow
---
Ohr Somayach is hosted by TeamGenesis


---

Copyright © 1995
Ohr Somayach International
. Send comments to:
[email protected]