Love of the Land - Tsefat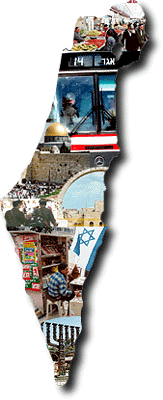 Selections from classical Torah sources
which express the special relationship between
the People of Israel and Eretz Yisrael
TSEFAT
For Jewish settlers and visitors during the last five hundred years Tsefat has been one of Eretz Yisrael's "sacred cities." A visit to its ancient synagogues and cemetery takes one back to the golden days of the city when Rabbi Yitzchak Luria ("Arizal") and his disciples established it as the center of Kabbalistic learning. Here too lived and died Rabbi Yosef Caro, author of the Shulchan Aruch, Rabbi Shlomo Alkebetz, author of the "Lecha Dodi" sung on Shabbat eve, and Rabbi Yaakov Berrav, who made an abortive attempt to reestablish the Sanhedrin, and many other famous saints and scholars.
The cool air and beautiful surroundings of Tsefat attract many people from the entire country during the summer, but the year-long population remains small. A curious blend of art, music and mysticism endows this city with a unique personality during peak season. Among the Torah institutions functioning in Tsefat is "Shalom Rav," a yeshiva for students with limited backgrounds, headed by American-born Rabbi Rafael Weingot and a similar seminary for women, Sharei Bina, run by his wife.

---
The Love of the Land Archives
---
Written by Rabbi Mendel Weinbach, Dean, Ohr Somayach Institutions
General Editor:
Rabbi Moshe Newman
HTML Production:
Eli Ballon
HTML Design:
Michael Treblow
---
© 1998 Ohr Somayach International - All rights reserved. This publication may be distributed to another person intact without prior permission. We also encourage you to include this material in other publications, such as synagogue newsletters. However, we ask that you contact us beforehand for permission, and then send us a sample issue.
---
This publication is available via E-Mail
---
Ohr Somayach Institutions
is an
international network
of Yeshivot and outreach centers, with branches in North America, Europe, South Africa and South America. The Central Campus in Jerusalem provides a full range of educational services for over 685 full-time students.
The Jewish Learning Exchange (JLE) of Ohr Somayach offers summer and winter programs in Israel that attract hundreds of university students from around the world for 3 to 8 weeks of study and touring.
Ohr Somayach's Web site is hosted by TeamGenesis

---

Copyright © 1998
Ohr Somayach International
. Send us
Feedback
.