Love of the Land - Modi'in
The City of the Macabees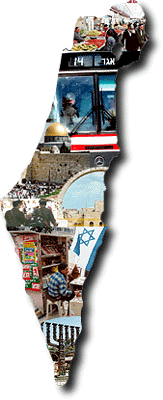 Selections from classical Torah sources
which express the special relationship between
the People of Israel and Eretz Yisrael
MODI'IN
Modi'in is the historical name of the mountain stronghold of the Maccabeans whose victory over the vastly superior forces of the Hellenist Greek oppressors is celebrated on Chanuka.
In his historical account of the that epic struggle between pagan idolatry and Hebrew faith, Josephus describes how the wicked Antiochus ordered his officers to wipe out any trace of Judaism. They did indeed slay anyone who remained faithful to Torah observance, except for those who fled to the mountain area of Modi'in together with Matitiyahu, the son of Yochanan.
It was from this Modi'in that Matitiyahu and his five sons led their small band of faithful Jews in a seemingly hopeless war of "the mighty against the weak, the many against the few, the impure against the pure, the wicked against the righteous, the sinners against those who adhered to the Torah" - a war ending in a miraculous victory, climaxed by the miracle of the oil in the Menorah which burned for eight days.
Since the Six-Day War, the Modi'in area has been intensely developed and is the home of the fast-growing town of Modi'in, the chareidi community of Kiryat Sefer, and the soon to rise community of Ohr Somayach.

---
The Love of the Land Archives
---
Written by Rabbi Mendel Weinbach, Dean, Ohr Somayach Institutions
General Editor:
Rabbi Moshe Newman
HTML Production:
Eli Ballon
HTML Design:
Michael Treblow
---
© 1998 Ohr Somayach International - All rights reserved. This publication may be distributed to another person intact without prior permission. We also encourage you to include this material in other publications, such as synagogue newsletters. However, we ask that you contact us beforehand for permission, and then send us a sample issue.
---
This publication is available via E-Mail
---
Ohr Somayach Institutions
is an
international network
of Yeshivot and outreach centers, with branches in North America, Europe, South Africa and South America. The Central Campus in Jerusalem provides a full range of educational services for over 685 full-time students.
The Jewish Learning Exchange (JLE) of Ohr Somayach offers summer and winter programs in Israel that attract hundreds of university students from around the world for 3 to 8 weeks of study and touring.
Ohr Somayach's Web site is hosted by DreamHost

---

Copyright © 1998
Ohr Somayach International
. Send us
Feedback
.